Now Crowdfunding on Ulule: krippit-Paris
Thank you All for your support! 108% of our Funding Goal Reached.
We want to extend a huge thank you to all of our supporters!

Early this fall, we announced our crowdfunding partnership through the Ulule platform in France. Thanks to all the wonderful supporters, we have achieved 108% of our goal. All the shipping to all backers has been shipped both in Canada & Europe. If you missed our crowdfunding, it's not too late to support us! We have been raising funds for our new product launch by clicking on the link. Please continue to share the same relations with friends & Family. We appreciate your support. The links are available both in French in English: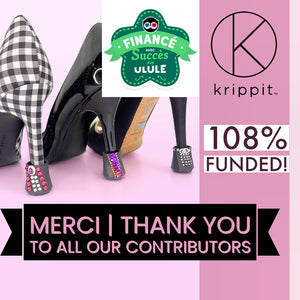 PEOPLE WHO LOVE US!
This is a friend called Krippit, and these are 3D, really blingy heel protectors on you're shoes!

HILARY ALEXANDER, Editor-at-large @hellofashion_uk
CANDACE BUSHNELL, Creator of books & television 📖📺 "Is There Still Sex in the City"
There are several of these products that I've seen on the market, but her Krippit was by far the best I have seen.

PAT LYTTLE
If you love your heels, you'll love krippit more!

NADIA E, Addicted Now Media
I can't count the number of times that I wish I had a pair of Krippit's in my purse!

DEB, Owner of Palettera
This design is better than what I've seen at Bloomingdales

AON, Legal Council
"The most beautiful shoe protectors I've ever seen"

IRINA GEORGIEVA, London Fashion Week Attendee