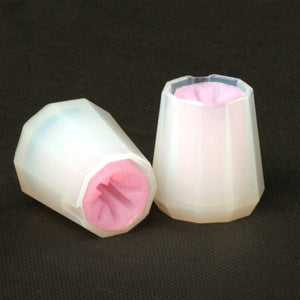 We are here to help you walk in heels easier on any surface. With our new innovative 3D printed high heel protector, you don't have to worry about damaging your favourite shoes. 

Krippit attaches to your high heel without damaging the surface of your shoe. The increased heel base improves your balance and comfort while using high heels. Our product is a prototype and patent pending. Longevity of this product varies, depending on the amount of use.


Features:
Fits Majority of High Heel Sizes 
Mix and Match Liner and Outer Shell

Krippit helps prevent:
Sinking in grass and mud
Falling through grates or wooden decks
Damaging hardwood, carpet, vinyl flooring
Tripping on uneven surfaces and cracks
Shoe damage
Use Krippit for:
Any Outdoor Event
Weddings
Graduations
Formal Events
Business and Social Functions
"Out on the Town"
Rainy Weather
Yacht Clubs
Picnics
Expected delivery, less than 3 weeks from order date.
Disclaimer: Please be advised that this is a prototype and that our unique 3D High Heel Protectors has been specially designed to fit and protect a majority of commercial stilettos from damage when walking on grass and various uneven surfaces. This prototype has limited usage and should not be worn or used for an extensive period of time or be used with heels that are wobbly/loose or be used to append damaged heels. 

In no event shall krippit be liable for any direct, indirect, punitive, incidental, special consequential damages, to property or life, whatsoever arising out of or connected with the use or misuse of our products.